Career
Meet Katarzyna Lawniczuk, Jos van der Tol and Leonardo Midolo
Katarzyna Lawniczuk likes to push boundaries. Whether they are boundaries between disciplines, between countries, between jobs or between technologies: she's not impressed. That is how, after studying Electronics and Computer Science at Warsaw University, via a combined PhD in Poland and the Netherlands and a job as JePPIX coordinator, she ended up co-inventing new photonic chips and exploring novel application areas at BRIGHT Photonics.
'The creative process, and working with young people.' Recently retired Associate Professor Jos van der Tol does not hesitate for a second when asked what he likes the most about being a researcher. 'The fresh perspectives, that every next generation of students brings in, keep feeding your own creativity.'
Motivated to run the quantum marathon
'Academic work on quantum computing and quantum communication is like running a marathon: there are no quick solutions and you need a lot of perseverance.' And that is what TU/e alumnus Leonardo Midolo has in abundance. Collaboration with colleagues and students is what motivates him to keep on track.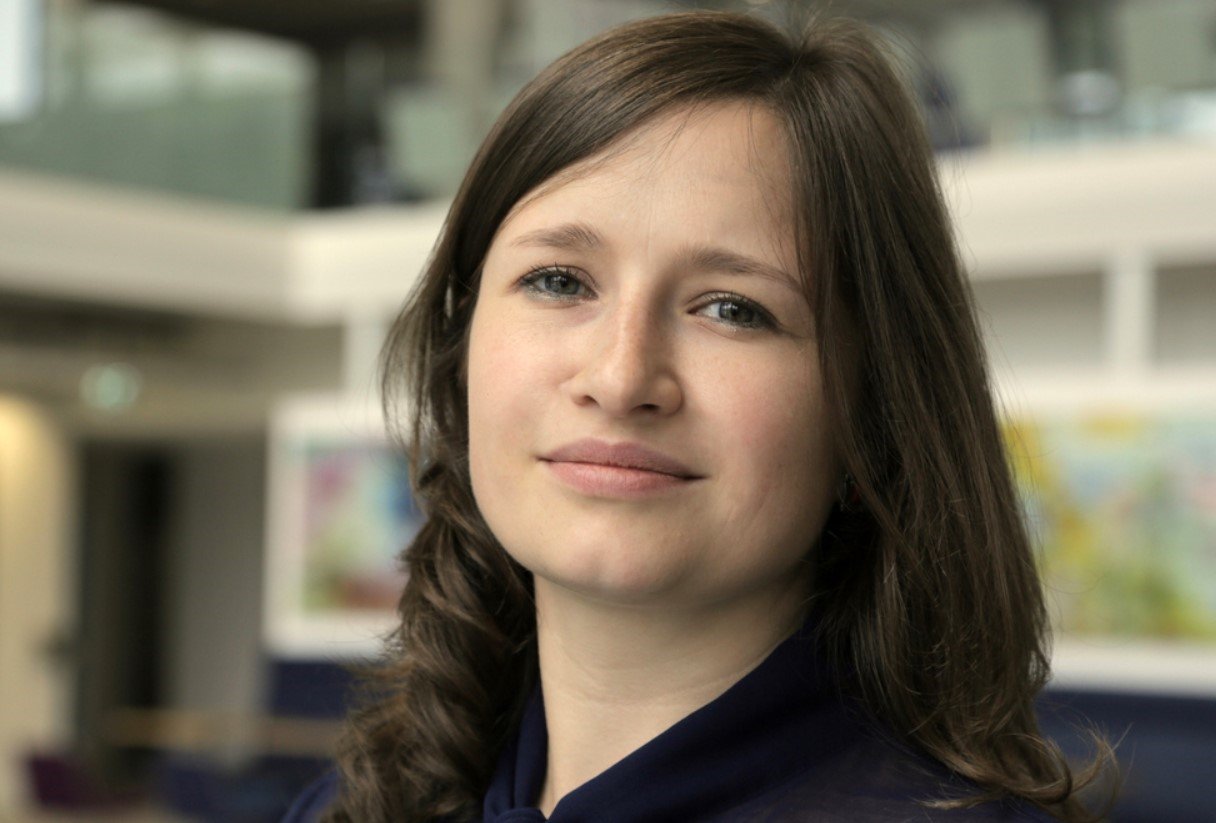 "Working in this field is very versatile: everything we work on is new and often at the state of the art level."
Katarzyna Lawniczuk
'It was only natural that I ended up studying Electronics and Computer Science at Warsaw University,' Katarzyna Lawniczuk comments when asked about the start of her career. 'I was good in Mathematics and Physics, and searched for good education in the natural sciences with a practical angle.' During her master's, Lawniczuk's professor informed her about the possibility to work on a joint, EU-funded PhD project between Warsaw University and Eindhoven University of Technology in an interesting new field called integrated photonics. 'The possibility to travel between Poland and the Netherlands and to collaborate with partners inside and outside academia is what attracted me to that position.' And that is in short how the bright and hardworking engineer in 2009 entered the field of photonics.
Broad set of skills
During her time as a PhD student, Lawniczuk made optimal use of all of the opportunities that came by to broaden her expertise. 'I used that time to diversify my skills, not only in photonics, but also in presenting, team work and collaboration.' Since as a result, she had acquired quite an extensive network of scientists, foundries and software companies in multiple countries, it was a natural step for her to join JePPIX in 2013 as a coordinator, soon after she had defended her thesis in 2014. It was a challenging time, she recollects, since JePPIX had to be expanded from a primarily regional oriented organization to an initiative with a broader scope, that also included design houses, manufacturers and software companies from afar. To her joy, since then, JePPIX has evolved even further. 'It is nice to see that it has not been left behind and that people care about its future.'
In 2015, she left JePPIX for BRIGHT Photonics, where she currently holds the position of VP, Senior Photonics Engineer. Her job there entails a rather varied mix of different activities. The three main lines are to help customers with the introduction of Photonic Integrated Circuits into their products, to further develop BRIGHT's software tooling Nazca Design, and to explore new business opportunities for photonics. All in all, during her career, Lawniczuk keeps (re)-inventing herself and the possibilities of photonics. 'Over the past ten years I have been so fortunate to witness the maturation of integrated photonics as a field. Photonics is a true game changer for new products and is now also seen as such by our customers. Working in this field is very versatile: everything we work on is new and often at the state of the art level. The idea that designs I worked on will sometime soon be used for space exploration, to find exoplanets, or be integrated in phones for sensing applications is truly heartwarming.'
'Only when you know how something works at the fundamental level, you can come up with truly groundbreaking engineering solutions.'
Jos van der Tol
Jos van der Tol studied Physics at Leiden University and also obtained his PhD there in 1985. That thorough theoretical background has served him well, working for almost fifty years at the forefront of technological developments in the rapidly developing field of photonics. 'Only when you know how something works at the fundamental level, you can come up with truly groundbreaking engineering solutions.'
For the past 23 years, Van der Tol has been active in the field of photonic integration at TU/e. Before that, he worked at KPN Research on integrated optical components for use in telecommunication networks. During his decades of research, the physicist developed and explored new ideas on a myriad of topics, ranging from photonic crystals and photonic membranes to integrating electronic functionality, and magneto-optics in photonic chips.
He witnessed the field of integrated photonics coming to maturity. 'When I started here at the university back in 1999, though most of the ideas had already been developed, only some of them had actually been demonstrated. We had waveguides and switches, we were able to integrate different functionalities on a single wafer, and there were even some rudimentary chips. But they were still far away from doing what was required.'
Dive into ideas
In this development, Van der Tol worked on the visionary, more futuristic concepts. 'That is also the main reason why I returned to academia after having worked in industry. The possibility to generate and deeply dive into a multitude of ideas is what motivates me.' Accordingly, he is most proud of the projects where out-of-the-box thinking turned out to be the key. For example, he recollects the idea when he got to solve problems with a polarization converter. 'The reproducibility of that component was a challenge, it was too sensitive to slight variations in processing. I came up with the idea to combine the converter with its inverse component. And since then, 99 out of 100 polarizers we produce meet tight specifications.'
Van der Tol never puts all his eggs in one basket. For example, to combine electronics with photonics, the physicist looks at integrating both the active and the passive optical components onto a single indium phosphide membrane, which is then 'stamped' on top of an electronic circuit. In other projects, Van der Tol and colleagues also demonstrated the possibility to combine photonics with spintronics, opening up an entirely new window of possible applications - such as energy efficient memories. It is in this combination of technologies and the use of novel materials where Van der Tol sees the most promising new horizons loom. And since he will remain connected to university for one day a week, there is no doubt that he will keep pushing photonics forward.
'There are tens of possible paths we can take. The question is which will turn out to be the best one.'
Even though he explicitly decided to study physics instead of engineering, ever since he started his PhD research at TU/e, Leonardo Midolo has been balancing the two in his academic work. The current Associate Professor at the Niels Bohr Institute in Denmark works on the development of novel technologies for quantum information processing with photons, or, in his words, 'making the actual hardware for quantum computing, simulation, and communication.'
Delve into optics
During his studies the Italian-born physicist did an assignment at Fiat. After obtaining his master's degree he worked there for two years. 'Though they had a very interesting research group that was aimed at pushing innovations in the car industry, I eventually started to miss the freedom to dive deeper into the field of optics. On top of that, I discovered that if I wanted to become more of a generalist, I needed a higher level of education.' That is how he ended up at TU/e to pursue his PhD in the Photonics and Semiconductor Nanophysics group. 'Looking back, that is where my academic career really started,' he comments.
During his PhD project Midolo fabricated microchips containing optomechanical devices. The combination of nanofabrication and understanding the fundamental physics underlying the performance of the resulting device closed the full loop for him. 'While I was writing my PhD thesis, I came across some papers written by scientists from the Niels Bohr Institute that helped me understand the physics. I contacted that group to learn more. They happened to have a vacancy for a postdoc. So, I applied there, and never left.'
Finding the right path
In Denmark Midolo works on single photon technologies based on quantum dots. 'The challenge is to control and scale devices for single-photon generation and detection in such a way that we will be able to integrate tens of them on a chip eventually. Though generating the photons is no problem anymore, manipulating, switching and routing them with low loss still is a formidable task. There are tens of possible paths we can take. The question is which will turn out to be the best one.'
Even though it's been almost ten years since he left TU/e for Denmark, Midolo looks back on his time in Eindhoven with joy. 'Developing quantum technology asks for a mix of competences. The kind of education one can get at TU/e has been very beneficial for me. The close links that exist between the more fundamental physics groups and groups with a focus on nanofabrication are rare to find elsewhere. It is a true asset that the Eindhoven Hendrik Casimir Institute houses all of the necessary expertise under a single roof.'